Biography
Since 1990, Mr. Hopengarten has been a lawyer handling federal communications law matters — especially those involving land use for antennas and towers. He has also been a consultant to venture capital firms.  For example, he has advised on an investment in a two-way radio peripheral hardware manufacturer, and performed due diligence with a valuation on one of the largest mountain top antenna farms in the United States . He has also advised broadcasters with regard to leasing space on their towers, and land owners with respect to leasing land for towers. In addition, he founded Strong Signals LLC, a Maine company which owns and operates a major communications tower and site near Lewiston-Auburn.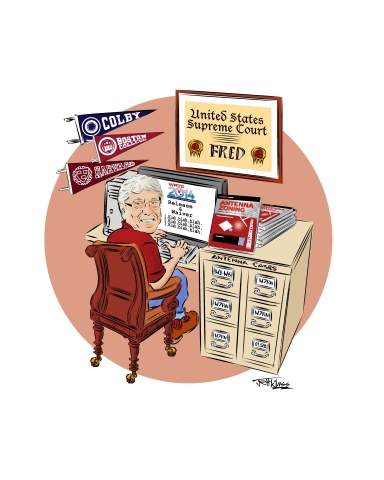 In 2001, the American Radio Relay League published his book Antenna Zoning for the Radio Amateur. All copies were sold. The Second Edition (245 pages) appeared in April 2011.  In 2009, the Society of Broadcast Engineers sponsored the commercial version of his book, covering broadcast, and cellular antenna structures, WISP and other antenna installations. Antenna Zoning – Professional Edition (440 pages) was published by Focal Press, a division of Elsevier.
From 1978 to 1989, Mr. Hopengarten was President of Channel One, based in Newton, Massachusetts, a company providing equipment and installation services for home and commercial satellite earth stations, as well as temporary downlinks for ad hoc networks. He installed over 100 downlinks and 15 towers, obtaining building and zoning permits, buying hardware and climbing towers to erect antennas. Beginning as a start up, the company grew to operate private cable TV systems.  Twelve years after its founding, the company was sold to Continental Cablevision (later Media One, then part of AT&T Broadband, then swallowed by Comcast).

He has published articles on various aspects of satellite television services and tower zoning in Communications-Engineering Digest, ComputerWorld, Dealerscope, Pay Television, Inside SPACE, CQ, Satellite Communications, Radio-Electronics, Cable Television Business, CableVision, Cable Marketing, Broadcasting, QST, and the New England Real Estate Journal.

A frequent speaker at technical and trade events, Mr. Hopengarten has been a guest speaker for the Electronics Industries Association, the Satellite Communications Users' Conference, Online Systems, Payment Systems, M.I.T., Boston University, Boston College Law School, Resource Management Consultants, the National Association of Broadcasters, the Dayton HamVention ™, the Society of Broadcast Engineers and others. He has often been interviewed for articles, as well as TV and radio shows, on satellite television, mini-cable ™ (SMATV) systems, and satellite teleconferencing.
Selected articles discussing Mr. Hopengarten and Channel One are available on request. Such articles have appeared in The Wall Street Journal, UPI, The New York Times, The Atlanta Constitution, The Chicago Sun-Times, The Los Angeles Times, The Boston Herald, The Boston Globe, Business Week, and so forth, as well as virtually every cable and satellite communications trade publication.

Prior to founding Channel One in 1978, Mr. Hopengarten spent six years with Harbridge House, the multi-national management consulting firm. While at Harbridge House, he worked projects for, among others, John Deere, the National Science Foundation, Allstate, Volvo, Fiji Sugar Corporation, Volkswagen, the U.S. Navy, Xerox, and the Massachusetts Consumer's Council.

Mr. Hopengarten is a graduate of Colby College (A.B., economics), Waterville, Maine, where he was the chief engineer of the college radio station, WMHB. While creating Channel One, Mr. Hopengarten taught Business Law, as well as Marketing, as an Associate Professor at Colby. He received his J.D. from the Boston College Law School. He is a member of the Bar only in the District of Columbia (where he was Law Clerk to the Chairman of the Federal Trade Commission), and Maine. In addition, he is admitted to the U.S Court of Appeals for the D.C. Circuit, the Third Circuit Court of Appeals, and the Supreme Court of the United States. He has been admitted pro hac vice (for a particular case) in New Jersey and Ohio, and he has appeared in Texas. He is also a member of the Federal Communications Bar Association. He graduated from the Harvard Business School (M.B.A.).
Holder of an FCC amateur extra class license since 1975, as K1VR, Mr. Hopengarten received his first FCC license in 1956. A Life member of the ARRL, the national association for amateur radio, he serves as a Volunteer Counsel. In 2018, he was elected to the ARRL Board of Directors. He is also a member of the Radio Club of America.
Mr. Hopengarten enjoys speaking French, but notices that his accent is better after one glass of wine. Make that two glasses of wine.  He can also stumble about in Spanish and German (though he employs a noticeably American syntax when speaking German).
Actually, he's much better at Morse Code.
He is married to Betty Herr, M.D., Ph.D., a physician in a private group practice affiliated with St. Elizabeth's Medical Center, Boston.
Here are some pieces of ancient history: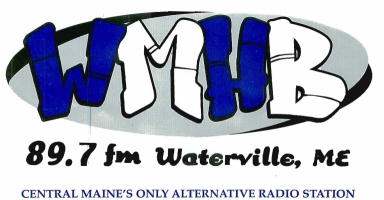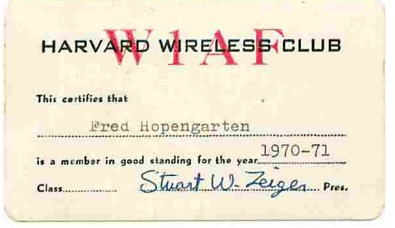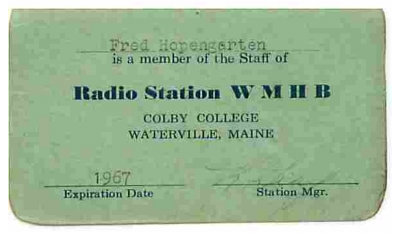 WMHB's Station Manager, Ken Gray, then K1GFX, Ed.D., is today professor emeritus at Penn State.
W1AF's  President, Stu Zeiger, is today KB1QW and Vice President, Information Technology, Big Brothers Big Sisters of America. K1VR is now the General Counsel of the Harvard Wireless Club.
Ken Gray and Stu Zeiger are great people. It was my privilege to go to school with them.